NDS DS Lite USB Charging Cable
Find Similar Posts
Report
S$9.00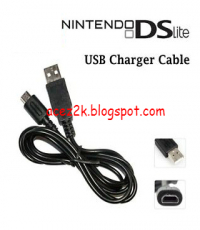 Description
[Trade in/Buy in your used consoles/games/accessories. Pls WA with pics for quotation.]
Approximately 1m in length and the perfect companion for the extra portable gaming power via charging through a power bank.
Deal @ Toa Payoh Blk 69 only or via postage. No bargaining please.
Pls whatsapp to 981 triple five double nine to deal only if you are ok with the price. Thanks!
Visit our online shop for more exciting games on all consoles: acez2k.blogspot.com
**Note: For Pre-Owned titles, kindly assume that DLCs are redeemed.
Contact Seller
Meetup Area
Not specified
Back