Thrustmaster T300 RS GT Edition Force Feedback Wheel (PC/PS3/PS)
Find Similar Posts
Report
S$588.00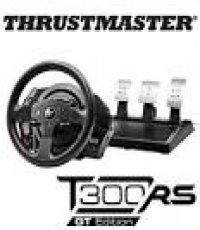 Description
Comes with 1 year local warranty from date of purchase. Free Delivery included.
Detachable, realistic 11 inch/28 cm diameter racing wheel, featuring reinforced textured rubber cladding on the wheel's entire circumference. Official GT Logo in the center of the wheel.
Comprehensive driving controls : 13 action buttons (including 2 on the base) + 1 D-Pad.
Official PlayStation®4 buttons included (PS, SHARE, OPTIONS): access the new social features by instantly switching between the game and the system, at any time
Contact Seller
Meetup Area
North
South
East
West
Central
North-East
North-West
Back