Playstation 4 and 2 Controllers
Find Similar Posts
Report
S$260.00
[Negotiable]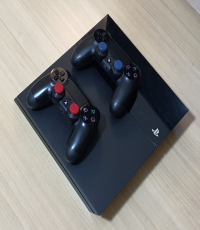 Description
Selling a well taken care of PS4. Only played it during school holidays, when not in use always kept it covered with a cloth.
Content:
- 1x PS4 (500GB)
- 2x Controllers
- 1x Power Cable
- No Box
- No Warranty
Console Condition: 7/10. Console is fully functional, with a working disk drive and power button. However, the manual eject button no longer works, but you can eject disks in home screen menu without the use of the button. I opened it up a year ago to remove the dust and clean up the interior, so internally it is almost brand new.
Contact me for more info.
Contact Seller
Meetup Area
North
South
East
West
Central
North-East
North-West
Back