PS4 console (Brand New)
Find Similar Posts
Report
S$667.00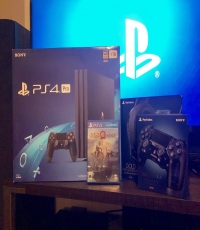 Description
*The PS4 Pro console and God of War are not brand new* I just purchased them in June and they are in like new condition, however, I just bought the 500 Million Limited console, so I don't need this one anymore.
The console comes with a brand new in box 500 Million Limited Edition translucent blue headset and 500 Million Limited Edition controller!!
Bundle also includes a pristine copy of God of War and the original black dual shock controller.
customer care whatsapp sales number :+17193943773
Skype: sales.trendi
Contact Seller
Alert!
This seller is not our
official shop partner
. Please exercise caution and do not transfer money to the seller until you see the goods. Suggest to the seller to do cash on delivery.
Meetup Area
North
South
East
West
Central
North-East
North-West
Back